10/17/05, 10/19/05, 10/22/05
Total engine rebuild less crank rebuild - lower end build. Go here to see upper end build.
Background: I started hearing a knocking noise from my motor a few weeks ago after a high-speed run up to Albany. This motor was my first ever complete lower build so I wanted to get to the problem fast. I had already had about 15000 trouble-free miles since I built the crank. I found that the rear piston had started to overheat and seize in the bore at some point. It turns out that the timing weights had started to rub the post boss inside the timing cover, affecting the timing. Since I already had the motor largely disassembled, I decided to go all the way and take some measurements and inspect everything to make sure everything was wearing (or not wearing) as it should. Everything checked out pretty much as I had built it.
Problems: There were a few problems I wanted to address during the build. As I make incremental changes to this motor and put alot of miles on it, I learn what works and what doesn't. I keep notes and measurements on what I do each time so I can see the changes (if any) later. The issues I wanted to address on this build were:
Improve crank case breathing - the motor was prone to weeping around all oil points and flanges. On the first build I timed and modified the breather opening to maximum timing to no avail.
More clearance for timing weights - the weights that caused this motor to fail were hardly worn. There was very little clearance in the timing cover.
Repair stripped case threads - these are replacement cases from HD which are evo castings machined to shovel specs. When I followed the shovel torque specs the first time, I stripped some threads. These cases have three blind hole case bolts, where the previous cases were all through-bolts except for one.
Repair leaking sprocket seal - the pressure buildup in the cases had dislodged the oil seal. Additionally, there was some leaking between the sprocket shaft and the seal spacer.
Approach: Get busy immediately! I sent the cylinders off to Broadway Choppers in Albany for a bore job and new pistons. I promised myself during the last top end job that I WOULD NEVER do my own cylinders again. I have a hand operated Sunnen hone with a honing oil recirc barrel but it's still a pain in the ass to remove .010. I enlisted my buddy Jeffro, who has helped in the shop in the past, to assist with the build since he's never done a lower end before. I wanted to pass on what I know about it as a mentor was kind enough to show me in the past. Plus, it always helps to have two opinions and Jeffro has offered some great insights on other occasions. He has a sharp eye for detail. I'm hoping there'll still be a couple nice riding days left this fall. We finished it up on Saturday night after a ten hour day then went out and got rip-roaring drunk. Here are some pics and notes. Enjoy.
Jason
Notes:
Experimented with Timken bearings spacers in left case until ~.002 play achieved
Crank has .0002 sprocket shaft runout, .0018 pinion shaft runout. Decided to leave it although not ideal
Countersunk case bolt holes for installation of sealing o-rings where spigot bore allowed oil access
Repaired stripped rear cylinder blind case bolt threads
Wrapped worn stator wire with electrician's rubber tape
Cut bevel on sprocket seal spacer and installed o-ring between bearing and spacer to prevent oil leaks
Set cam end-play at .003 loose
Set breather end play so movement is just detectable
Removed breather screen and installed snake-oil breather ramp as an experiment
Retained existing cam bearing and timing cover bushes as engine has low mileage
Proper con rod alignment confirmed with precision ground check pin
S&S pump model is '81 - '92 style. Used paper gaskets with copper tack. Torqued to 90in/lbs
Left '73-up stock oil pump gears in use
Kept V-Thunder 404 cam
Timing case post bosses ground down to allow more clearance for timing weights
New Rivera stainless timing weight kit installed
New cam oil seal installed
Sprocket seal spacer inspected and polished. New seal installed, spring inwards for belt drive application
Rotor spacing confirmed to that magnets are centered over stator and edge doesn't rub stator wires
Loctite 518 used on case halves
Through-case bolts torqued to 22ft/lbs. Blind case bolts torqued to 13ft/lbs
Timing cover screws torqued to 120in/lbs
Sprocket bearing race spacer had shifted. Realigned to that gap is under oil feed hole
Sprocket bearing races bottomed on spacer with bearing installers bolted together through case
Pics:
Rear cylinder was scuffed and had aluminum deposited on it from overheating
Rear piston was pretty trashed
Top end removed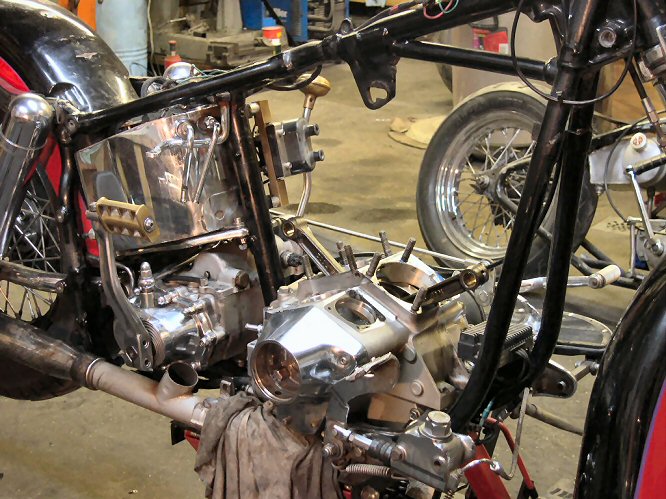 Pinion nut rounded off even though I used JIMS tool. Created a sleeve from the wrist pin and TIG welded the pin to the pinion nut. Welded a nut to the other end of the wrist pin. Came right off.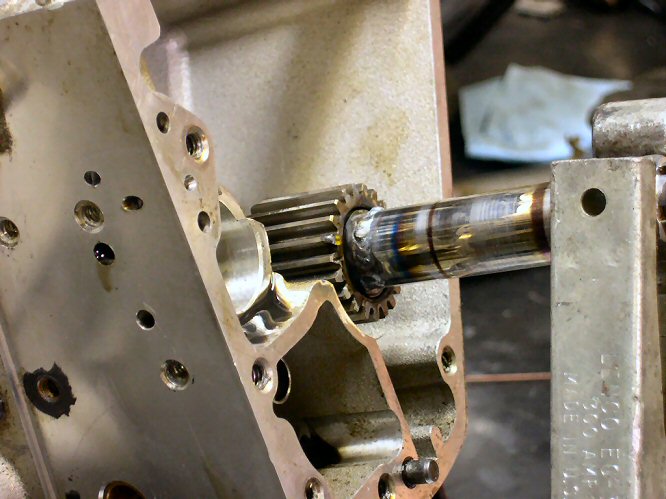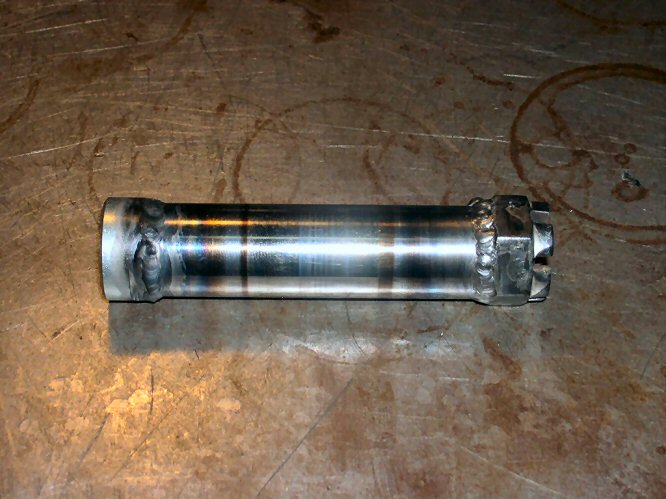 Countersink the case bolt holes for sealing o-ring installation on bolts. Set up so they're mildly compressed without interfering with case bolt torque.
Crank installed back in left case after bearing spacing completed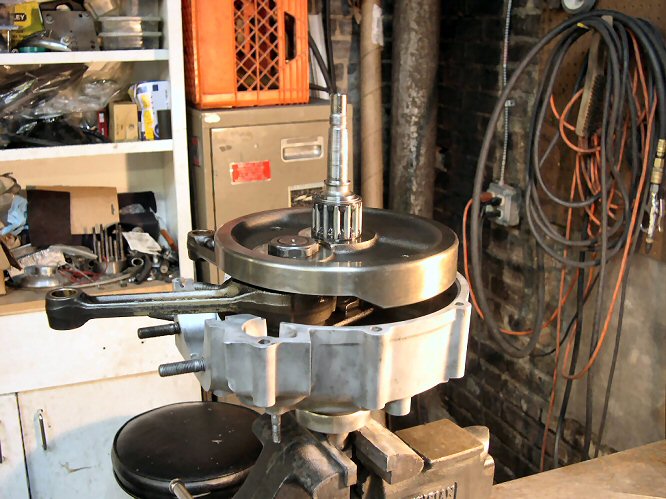 Sealer added to right case before installation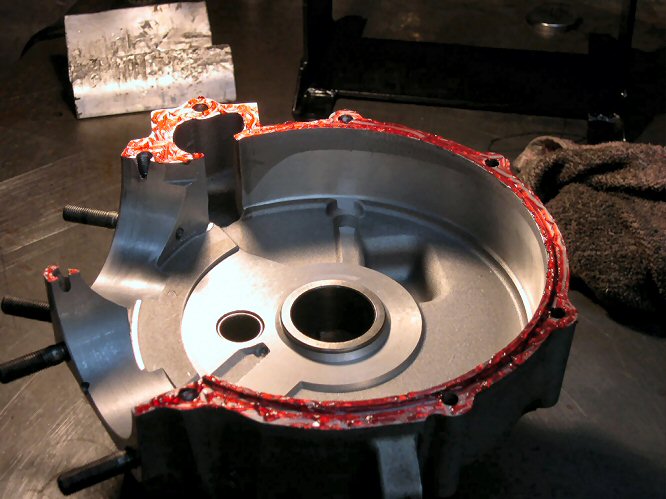 Cases put back together and bolts torqued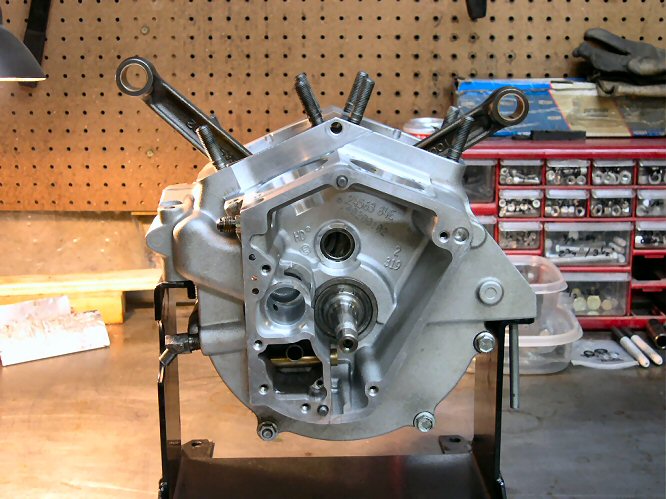 Sprocket side done after installation of sprocket shaft seal, spacer, stator, rotor, pulley
Oil pump parts prepped and ready for installation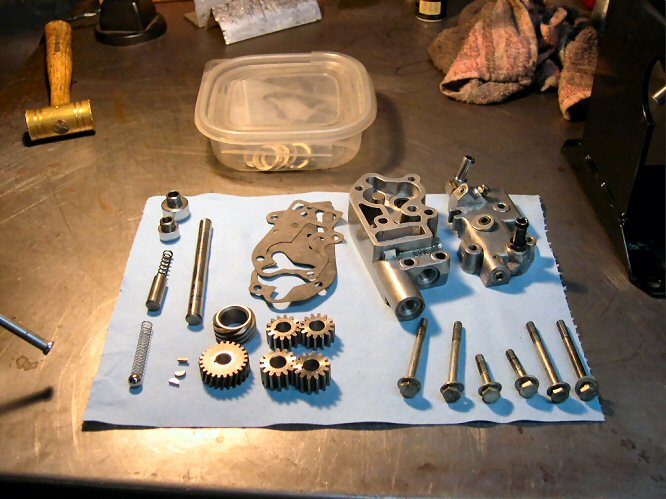 Pump half-way installed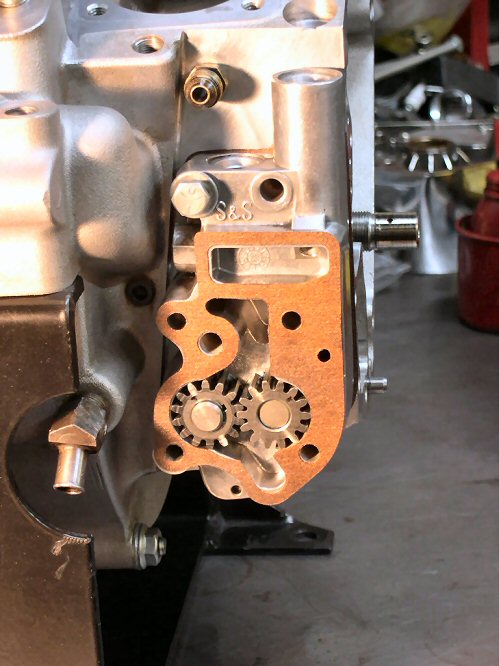 Oil pump installed, torqued, and checked for free rotation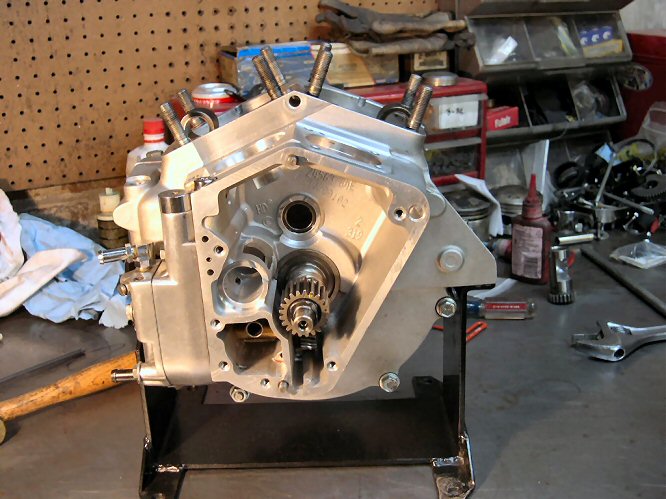 Breather with screen removed and magical mystery over-priced ramp apparatus installed. We'll see if there are any improvements to case breathing.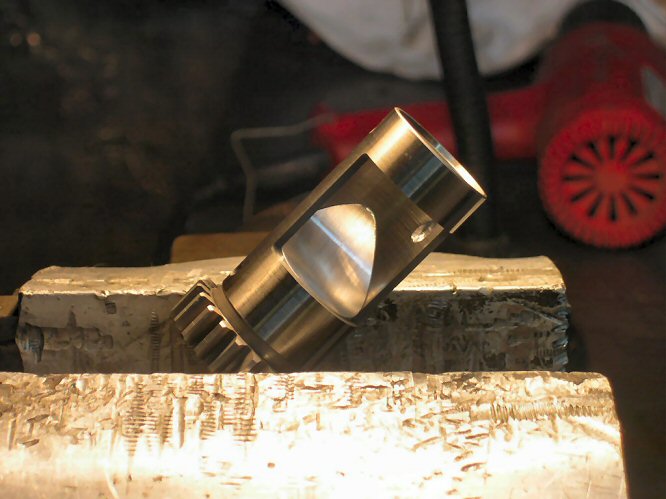 Timing case ready for closing after breather gear and cam end play set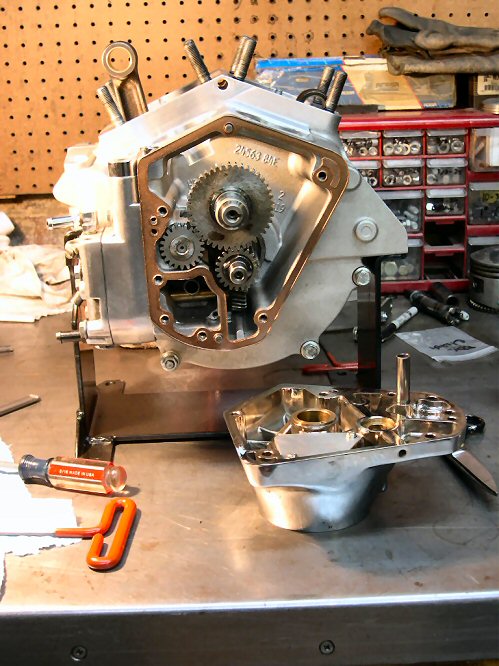 Timing cover installed and torqued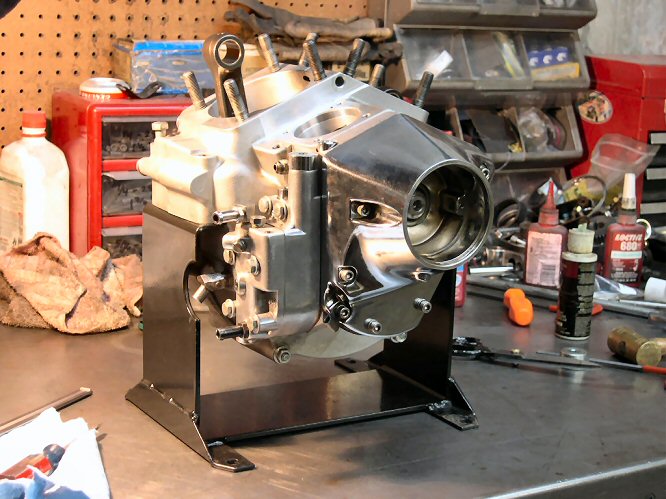 You know this $60 fucking JIMS pinion nut tool really sucks. It's a crappy fit on the nut and seems to be some pretty soft metal. Wish I had a Rockwell tester.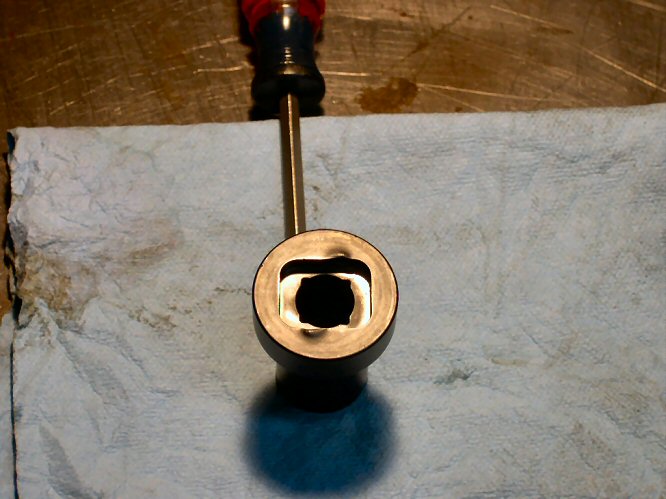 Tappet blocks and lifters installed
Lower end done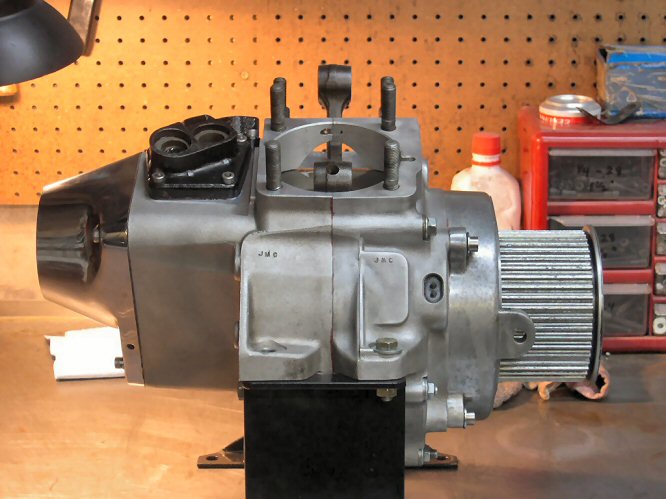 More tech articles @ www.greasygringo.com lay=Counter|ft=0|md=5|dd=B">