Shovelhead rebuild. . .
About a year and half ago I bought a piece-of-crap box of parts from some guy in Connecticut. The price was way out of hand but the basics were there: '58 frame and chassis, '71 motor and tranny, misc garbage. I had big plans for the bike as it had beautiful lines. In my opinion the duo-glide, kick-only Harley frames are the best frames ever made: Low, clean, round swing arm, just beautiful. Come to think of it, Hydra-Glide front ends aren't too shabby either ;-o They kind of remind me of the trains built in the mid to late thirties. The very definition of art-deco, giving a glimpse into the flavor of a rapidly progressing, technology starved, industrialized America. While just a dream in a box, if not a deathtrap waiting to strike, this one was going to be a beauty. . .
I slapped the thing together enough to ride around on it for a few months and work out the mechanicals. Almost got killed a few times. This one was going to need a full redo. . .

Here's what she used to look like before the redo.
Skip the stories jack, let me see it!

Before you build a bike, you kind of need a shop. Well, I live in NYC and don't have that luxury. I tried looking around Greenpoint, LIC, Brooklyn, Hoboken, you name it, I looked.

My brother offered to let me use his garage. Excellent! One problem of note: He lives in Philadelphia. Oh well, looks like I'd be spending everything weekend driving back and forth between NYC and Philly. Obsessions are like that.

Gotta start somewhere.
A few hours later and Voila! A shop. (Thanks G for ruining the roof of your car on my behalf)

Glenn now has the leakiest damned car you've ever seen thanks to hauling lumber on the roof. This was back in January incidentally, you could safely say we were freezing vital body parts on the way home.
Let's take it apart!. . .
So the next step was to roll this rat into newly appointed shop space to take her apart. Notice all the boxes against the wall. Glenn's roommate had been storing a bunch of crap down in the basement since time eternal. I helped him *organize* a little <G>. He was none too pleased, but there was serious work to be done. Besides, garages aren't meant for storage, that's what those rental places are for!

I made sure to get plenty of riding in for a few days because I had no idea how long this was going to take. Time to have a few beers and get cracking. . .
I called it a weekend at that point and left for the drive back to NYC. This would turn out to be a weekly ritual. Every Friday at 4, I'd cut out of work and drive or take the train down to Philly. I'd put in 30 to 40 hours by Sunday night and drag my exhausted ass back home. It's a two or three hour drive or a four hour train ride. Man, work was going to be tough for the next couple of months.

These are all the parts I sent out to be chromed. I'd never had anything chromed before. I never cared to. My other bike is strictly rust, black paint, and bare aluminum. I like it that way

The post office destroyed the package I sent to the chrome shop. The guy at the shop called me and asked "hey buddy, why the hell do you want all this fucked up garbage chromed anyway?" After talking with him for a bit we surmised that he had received what was left of the parts packaged in a different box than I had sent them in. I ship stuff all the time, they were very securely packaged.

Most of the parts were good sturdy original pieces. I didn't want to replace them with stamped Taiwan garbage. Fuck! The post office did *not* honor my insurance claim. Fuckers.
That's it for this installment, this web page shit is a hassle. I've wasted the whole night already. See you in another six months. . .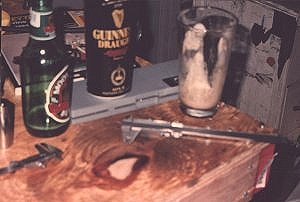 More tech articles @ www.greasygringo.com